Make a Payment & Donations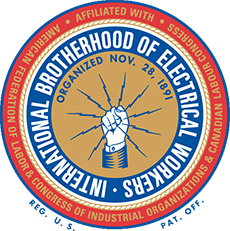 CLICK THE LOGO ABOVE TO MAKE A PAYMENT OR A DONATION!
Please click on the IBEW logo above to make your online payment. You will be directed to a separate page and from there you can choose which payment you would like to make. You can choose from the following payment options; A Membership Dues, A Membership Dues with Reinstatement fees added, Initiation Fees and Special Circumstance payments. Please note that online payments will include a processing fee. If you do not know how much you owe, please call the hall at 253-565-3232 to get your correct amount. Please make sure that you fill out all of your information and that you have clicked on the correct payment option. Once you have made a successful payment, you will receive an email with your receipt. Once we have received the notification of your payment, we will mail you your yellow receipt in the mail. If you have any questions or concerns, please feel free to contact the hall at (253) 565-3232, thank you!
Page Last Updated: May 12, 2022 (13:53:04)